Discover the exquisite flavors of Baingan Ki Sabji, a traditional Indian eggplant dish. Delight in the fusion of aromatic spices and tender eggplant pieces in this versatile and nutritious culinary masterpiece.
Transport your palate to the enchanting streets of India with our Flavorful Baingan Ki Sabji recipe – a celebration of taste and tradition. This dish, known for its robust flavors and captivating aroma, is a cherished gem from the heart of Indian kitchens. Originating from a tapestry of regional influences, this sabji boasts a history as diverse as the nation itself. The delicate dance of spices and the tenderness of eggplant create a symphony that resonates with every bite. As you savor this culinary delight, you embrace the stories of generations past while embarking on your own gastronomic adventure.
So, let your kitchen become a canvas, and let the spices be your palette. Dive into the art of creating a dish that's not just a recipe, but a tribute to the flavors that connect us all.
Baingan: A Culinary Gem
Baingan, also known as eggplant or aubergine, is a versatile and beloved vegetable that has earned its place in cuisines around the world. Originating in South Asia, baingan has a rich history dating back thousands of years. Its unique appearance, distinct taste, various varieties, and numerous culinary uses make it a staple ingredient in many dishes.
Origin and Appearance:
Baingan's origin can be traced back to India, where it has been cultivated for centuries.
The vegetable comes in various shapes and sizes, ranging from small round varieties to elongated and pear-shaped ones.
Its skin can be smooth or slightly textured, and its color varies from deep purple to light green or even white. The flesh of the baingan is creamy and tender when cooked.
Taste:
The taste of baingan is subtle yet distinctive. When cooked, it takes on a silky texture and absorbs the flavors of the spices and seasonings it's cooked with.
Baingan has a slightly earthy and mildly sweet taste that becomes more pronounced as it caramelizes during cooking.
Varieties:
There are numerous varieties of baingan available, each with its own unique attributes. Some popular varieties include:
I. Indian Eggplant (Brinjal):
This is the classic deep purple baingan, commonly used in Indian cuisine for dishes like Baingan Bharta and Baingan Curry.
II. Japanese Eggplant:
Slender and long, these are often used in Asian cuisines and are great for grilling or stir-frying.
III. Italian Eggplant:
These are larger and rounder, often used for dishes like Eggplant Parmesan.
IV. White Eggplant:
These have a milder flavor and can be used in a variety of dishes, both cooked and raw.
Uses:
Baingan's versatility shines through in its various culinary uses.
It can be grilled, roasted, sautéed, fried, or even used as a meat substitute in vegetarian dishes.
Baingan can be incorporated into curries, stews, salads, dips, and even sandwiches.
Its ability to absorb flavors makes it a perfect canvas for various spices and sauces.
Health Benefits:
Baingan is not only delicious but also offers several health benefits.
It is low in calories and rich in fiber, making it a good choice for weight management and digestive health.
It contains antioxidants that may help protect cells from damage and promote heart health.
Baingan is also a good source of vitamins and minerals, including vitamin C, vitamin K, potassium, and folate.
In essence, baingan is more than just a vegetable – it's a culinary gem that has journeyed through time, cultures, and cuisines, leaving its mark on plates across the globe. Its ability to transform into various delectable dishes and its array of health benefits make it a cherished ingredient for both seasoned chefs and home cooks alike.
So, whether you're indulging in a rich baingan-based curry or experimenting with a new recipe, you're savoring a piece of culinary history that continues to inspire and delight.
So, let's celebrate the wonder of baingan, and let its flavors ignite our palates and our passion for cooking!
Flavorful Baingan Ki Sabji
Baingan Recipe:
Ingredients:
Quantity Ingredient
4 Medium-sized eggplants (baingan)
2 Medium Size Aloo
2 tbsp Oil
1 tsp Mustard seeds
1 tsp Cumin seeds
A pinch Asafoetida (hing)
1 Onion (finely chopped)
2 Tomatoes (finely chopped)
1 tsp Ginger-garlic paste
1/4 tsp Turmeric powder
1 tsp Red chili powder
1 tsp Coriander powder
1/2 tsp Cumin powder
1/2 tsp Garam masala
To taste Salt
2 tbsp Fresh coriander leaves (chopped)
Instructions:
Begin by washing the medium-sized eggplants & Aloo and cutting them into bite-sized pieces.
Soak the eggplant pieces in a bowl of salted water for about 10 minutes and then drain them well.
Heat oil in a pan over medium heat.
Add mustard seeds and cumin seeds.
When they start to splutter, add a pinch of asafoetida.
Add the finely chopped onion and sauté until it turns translucent.
Stir in the ginger-garlic paste and sauté for a minute until the raw aroma disappears.
Add the finely chopped tomatoes, turmeric powder, red chili powder, coriander powder, cumin powder, and salt.
Mix well and cook until the tomatoes become soft and the oil starts to separate.
Gently squeeze the eggplant pieces to remove any excess water and add them to the pan.
Mix them well with the masala.
Cover the pan and let the eggplant cook on low heat, stirring occasionally, until they are tender and cooked through.
Sprinkle garam masala and chopped fresh coriander leaves over the cooked eggplant sabji.
Mix gently to combine.
Serve the flavorful baingan ki sabji hot with roti, rice, or any Indian bread of your choice.
Exquisite Stuffed Bharwa Baingan
Embark on a culinary journey to India with our Exquisite Stuffed Bharwa Baingan recipe – a true masterpiece that fuses tradition with innovation. Originating in the heart of Indian kitchens, this dish has a rich history that dates back centuries. The art of stuffing tender baby eggplants with a tantalizing blend of roasted peanut powder, aromatic spices, and flavorful coconut is a testament to the culinary prowess of generations past.
As you dive into creating this royal delicacy, you'll not only savor the incredible flavors but also pay homage to the cultural heritage that continues to inspire kitchens around the world. So, put on your apron, ignite your creativity, and let's craft a dish that's not just a recipe, but a piece of history on your plate.
Bharwa Baingan Recipe: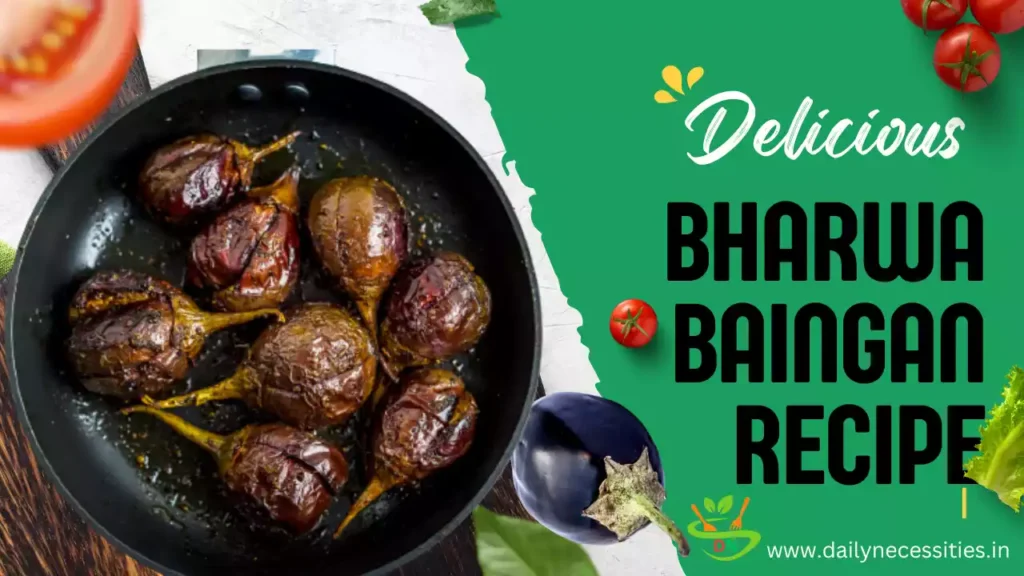 Ingredients:
6 Fresh baby eggplants (baingan)
1 cup Roasted peanut powder
2 tbsp Sesame seeds
1/2 cup Grated coconut
1/4 cup Tamarind pulp
1 tsp Jaggery
1 tsp Red chili powder
1/2 tsp Turmeric powder
1 tsp Coriander powder
1/2 tsp Cumin powder
To taste Salt
2 tbsp Oil
1/2 tsp Mustard seeds
1/2 tsp Cumin seeds
A pinch Asafoetida (hing)
Few sprigs of Fresh coriander leaves (chopped)
Instructions:
Begin by washing the fresh baby eggplants thoroughly.
Make a lengthwise slit in each eggplant without separating the halves, keeping the stem intact.
Heat a pan and dry roast the sesame seeds until they turn golden and aromatic. Set them aside.
In the same pan, add a tablespoon of oil and sauté the grated coconut until it becomes lightly golden.
Remove from heat and let it cool.
Grind the roasted sesame seeds and sautéed coconut together into a coarse powder.
Add roasted peanut powder, tamarind pulp, jaggery, red chili powder, turmeric powder, coriander powder, cumin powder, and salt.
Mix well to create the stuffing mixture.
Gently stuff each eggplant with this flavorful mixture, ensuring they are evenly filled.
In a wide pan, heat the remaining oil.
Add mustard seeds, cumin seeds, and a pinch of asafoetida.
Once they splutter, carefully place the stuffed eggplants in the pan.
Cover the pan and let the eggplants cook on low heat.
Occasionally, turn the eggplants gently to ensure even cooking.
Once the eggplants are cooked and tender, sprinkle some chopped fresh coriander leaves over them.
Serve the delicious stuffed bharwa baingan hot with roti, rice, or any Indian bread of your choice.
Nutrition Value and Health Benefits of Baingan (Eggplant)
Baingan, commonly known as eggplant or aubergine, is not just a flavorful addition to your meals; it's also packed with nutritional goodness that contributes to overall well-being. From its low-calorie content to its rich array of vitamins and minerals, baingan offers an array of health benefits that make it a fantastic choice for those seeking a balanced diet.
Nutrition Value:
Per 100 grams of cooked baingan provides approximately:
Calories: 25
Carbohydrates: 5.88 grams
Dietary Fiber: 3 grams
Protein: 0.98 grams
Fat: 0.18 grams
Vitamin C: 2.2 milligrams (4% of daily value)
Vitamin K: 3.5 micrograms (4% of daily value)
Folate: 22 micrograms (6% of daily value)
Potassium: 229 milligrams (5% of daily value)
Manganese: 0.232 milligrams (10% of daily value)
Health Benefits:
I. Weight Management:
Baingan is remarkably low in calories and carbohydrates, making it a great addition to weight-conscious diets.
Its high fiber content promotes a feeling of fullness, curbing overeating.
II. Heart Health:
The presence of fiber, potassium, and antioxidants in baingan can contribute to heart health.
Fiber helps manage cholesterol levels, while potassium supports healthy blood pressure regulation.
III. Antioxidant Power:
Baingan contains anthocyanins, a type of antioxidant that gives it its distinctive color.
These antioxidants help neutralize harmful free radicals in the body, potentially reducing the risk of chronic diseases.
IV. Blood Sugar Management:
The fiber content in baingan can slow down the absorption of sugar, contributing to better blood sugar control.
This makes it a valuable addition to diabetic-friendly diets.
V. Bone Health:
The presence of vitamin K in baingan is beneficial for bone health.
Vitamin K is essential for proper calcium absorption and bone mineralization.
VI. Digestive Health:
The dietary fiber in baingan supports a healthy digestive system by promoting regular bowel movements and preventing constipation.
VI. Brain Health:
Baingan contains nasunin, an antioxidant compound that may help protect cell membranes in the brain from damage, potentially contributing to cognitive health.
VII. Anti-Inflammatory Properties:
Certain compounds in baingan have anti-inflammatory properties, which can be beneficial for individuals with inflammatory conditions.
VIII. Cancer Prevention:
Some research suggests that baingan's antioxidants may have protective effects against certain types of cancers, although more studies are needed in this area.
IX. Skin Health:
The presence of vitamin C in baingan supports collagen production, which is important for maintaining healthy skin.
Incorporating baingan into your diet is a delicious way to reap its numerous health benefits. Whether grilled, roasted, sautéed, or cooked in curries, baingan's versatility makes it easy to include in a wide range of dishes. By enjoying this nutritious vegetable, you're not only savoring its delectable flavor but also nourishing your body with a host of valuable nutrients.
So, let's celebrate the goodness of baingan and make it a regular part of our culinary adventures toward better health and vitality!
Potential Side Effects of Baingan Ki Sabji
Baingan ki sabji, when enjoyed in moderation and as part of a balanced diet, is generally considered safe and nutritious. However, there are a few considerations to keep in mind:
I. Allergies:
Some individuals may be allergic to eggplants (baingan).
If you experience itching, swelling, or difficulty breathing after consuming baingan ki sabji, consult a healthcare professional.
II. Nightshade Sensitivity:
Eggplants belong to the nightshade family, and some people with sensitivity to nightshades might experience gastrointestinal discomfort or other symptoms after consuming baingan ki sabji.
III. Digestive Issues:
Eggplants contain solanine, a natural compound that can be hard to digest for some individuals.
Eating large amounts might lead to stomach discomfort, bloating, or gas.
IV. Oxalates:
Baingan contains oxalates, which can contribute to kidney stone formation in susceptible individuals.
If you have a history of kidney stones, it's advisable to consult your doctor before consuming baingan ki sabji.
V. Interaction with Medications:
If you're on certain medications, such as blood thinners or ACE inhibitors, the potassium content in baingan could interact with these medications. Consult your healthcare provider for guidance.
VI. Gastroesophageal Reflux (GERD):
For some individuals with GERD, the acidic nature of tomatoes and spices in baingan ki sabji might trigger symptoms. Adjust the recipe to suit your sensitivity.
It's important to remember that baingan ki sabji is part of a diverse and nutritious diet. If you have specific health concerns or conditions, it's recommended to consult a healthcare professional or registered dietitian before making significant dietary changes.
Conclusion
Baingan ki sabji, the beloved eggplant dish that has graced countless tables with its versatile flavors and heartwarming appeal, embodies the true essence of culinary artistry. Through its rich history, vibrant variations, and profound health benefits, this dish has proven time and again that simplicity can be the key to creating culinary masterpieces that leave an indelible mark on our palates and our hearts.
From the rustic kitchens of India to the international gastronomic stage, baingan ki sabji has transcended cultural boundaries, showcasing its ability to adapt and harmonize with an array of spices, techniques, and cooking styles. Its humble origins resonate in the warmth of family gatherings, while its continued evolution exemplifies the fusion of tradition and innovation that defines modern gastronomy.
The baingan ki sabji experience is a journey of senses – from the sizzle of mustard seeds in hot oil to the tantalizing aroma that fills the air as spices meld with tender eggplant. With each bite, we taste the legacy of generations that have perfected this dish, infusing it with love, memories, and a deep understanding of flavors.
This dish isn't just a culinary creation; it's a culinary conversation, a story told through the delicate balance of spices and the careful handling of ingredients. It teaches us that true artistry lies in embracing simplicity, in allowing the ingredients to shine and express themselves without restraint.
In the realm of health, baingan ki sabji emerges as a nutritional gem – a powerhouse of vitamins, minerals, and antioxidants that contribute to our vitality and well-being. Its ability to transform from a plain vegetable to a nutritional marvel showcases its remarkable versatility, enriching our diets with its bounty of benefits.
So, as we conclude our exploration of baingan ki sabji, let's celebrate its journey from the fields to our tables, from tradition to innovation, and from simplicity to sophistication. Let's honor the countless hands that have crafted and savored this dish over the years, and let's continue to revel in its culinary magic as we gather around the table, embracing the stories and flavors that unite us in a shared appreciation for the art of food.
So, here's to baingan ki sabji – a timeless reminder that the simplest ingredients can yield the most extraordinary experiences.
FAQs
Q. What is Baingan Ki Sabji?
A. Baingan ki sabji, also known as eggplant curry or aubergine dish, is a traditional Indian dish made using eggplants as the main ingredient. It's a flavorful and aromatic dish that is prepared with a variety of spices and seasonings.
Q. How is Baingan Ki Sabji prepared?
A. Baingan ki sabji is prepared by cutting eggplants into pieces and cooking them with a mixture of spices and ingredients. The eggplant pieces are usually sautéed or fried before being cooked with onions, tomatoes, and a blend of spices that give the dish its distinct flavor.
Q. What are the different variations of Baingan Ki Sabji?
A. There are numerous variations of baingan ki sabji across different regions in India. Some common variations include Baingan Bharta (roasted and mashed eggplant), Aloo Baingan (eggplant with potatoes), and Bharwa Baingan (stuffed eggplant).
Q. Can Baingan Ki Sabji be made without onions and garlic?
A. Yes, Baingan Ki Sabji can be made without onions and garlic to accommodate dietary restrictions or preferences. The flavor profile may change slightly, but you can use alternatives like asafoetida (hing) for a similar taste.
Q. Is Baingan Ki Sabji a healthy dish?
A. Yes, Baingan Ki Sabji is considered a healthy dish. Eggplants are low in calories and rich in dietary fiber, vitamins, and minerals. The dish is often prepared with minimal oil, making it a nutritious addition to a balanced diet.
Q. What is the best way to serve Baingan Ki Sabji?
A. Baingan Ki Sabji is typically served with roti (Indian flatbread), rice, or naan. It can also be enjoyed with other Indian bread varieties. Fresh coriander leaves are often used to garnish the dish before serving.
Q. Can Baingan Ki Sabji be made in advance?
A. Yes, you can prepare Baingan Ki Sabji in advance and store it in the refrigerator. Reheat it gently on the stovetop or in the microwave before serving.
Q. Can Baingan Ki Sabji be frozen?
A. Yes, you can freeze Baingan Ki Sabji for future use. Ensure that it's cooled completely before transferring it to an airtight container. Thaw and reheat thoroughly before consuming.
Q. What are some common spices used in Baingan Ki Sabji?
A. Common spices used in Baingan Ki Sabji include cumin seeds, mustard seeds, turmeric powder, red chili powder, coriander powder, cumin powder, and garam masala. These spices contribute to the dish's flavor and aroma.
Q. Can Baingan Ki Sabji be made vegan?
A. Yes, Baingan Ki Sabji can easily be made vegan by using plant-based cooking oil and avoiding any dairy-based ingredients.
You may also like:
Discover the Delightful Secrets of Spiny Gourd | A Unique Culinary Adventure of 2023
Snake Gourd Benefits | Recipes | Unveiling the Power-Packed 10 Secrets Benefits!
If you've found this culinary journey through baingan ki sabji inspiring, why not continue to explore the world of food, flavors, and recipes? And if this exploration has resonated with you, don't hesitate to express your appreciation by giving that "like" button a meaningful click! 🍆🌟👨‍🍳👩‍🍳